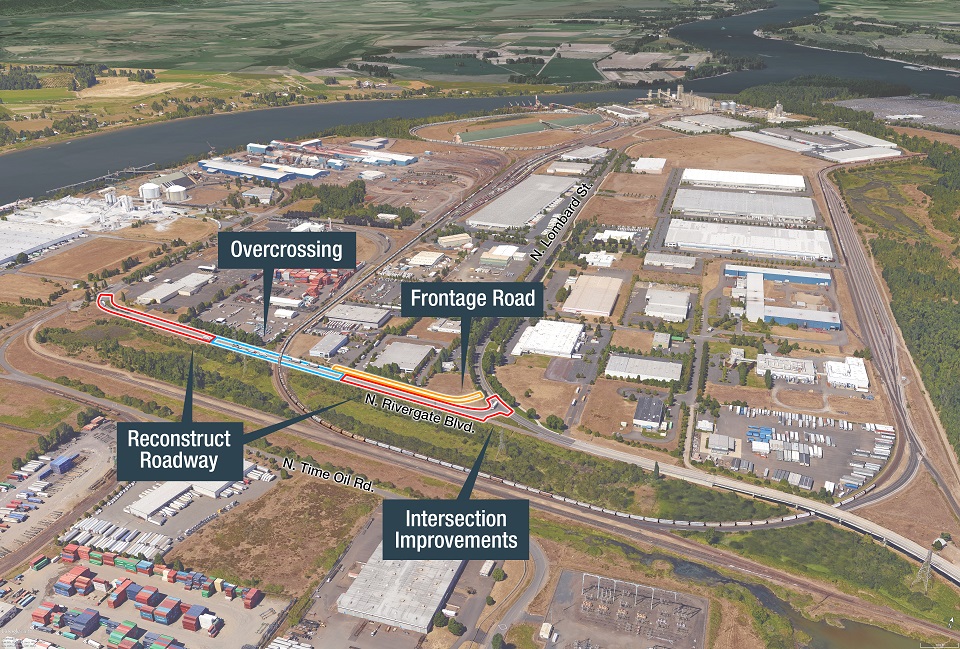 The U.S. Department of Transportation has awarded a $7.329 million grant to the Port of Portland and City of Portland to help fund a rail overpass and realign a congested and dangerous intersection in Portland's Rivergate Industrial Park.
The Portland Marine Terminal Freight and Jobs Access Project addresses congestion created by an at-grade rail crossing near the entrance to Rivergate and Terminal 5, while simultaneously providing safer and more reliable access to jobs from nearby residential areas. Rivergate is Portland's largest concentration of marine and industrial land offering more than 3,800 direct, middle-income jobs.
Federal Transportation Investment Generating Economic Recovery, or TIGER grants, are awarded on a competitive basis to fund capital investments in surface transportation infrastructure; selection prioritizes projects with significant regional economic impact. The application for the grant was a collaborative effort between the City of Portland and the Port of Portland.
Plans call for an overpass on North Rivergate Blvd. over a busy marine terminal rail lead, associated road and intersection improvements on North Lombard Street and new bike lanes. Pedestrian facility upgrades include a new sidewalk connecting to an existing bus stop and a multi-use path along North Burgard Road that increases mobility options for North Portland residents who work at Rivergate. Environmental improvements include enhanced stormwater treatment, landscaping and street lighting.
Currently, truck and passenger vehicle traffic is snarled in gridlock for up to four hours per day because of frequent rail movement. In many cases, traffic backs up onto North Lombard Street, impacting business access and creating unsafe conditions for all users. While alleviating traffic congestion, the project also increases efficiency of rail product delivery and lowers the cost of moving bulk cargo trains in and out of the area.
"In this case, the fourth time's a charm," Port of Portland Deputy Executive Director Curtis Robinhold said. "This was our fourth submittal for the Rivergate grade separation project to the TIGER grant process, which is a notoriously competitive federal grant program. This project significantly improves safety and congestion in the area while supporting increased tonnage for export through the Port's marine Terminal 5 and improved access for the thousands of employees trying to get to work in Rivergate. I am proud of our staff and our partners at the City of Portland. Their vision and endurance kept us in the game and improved the application with each iteration."
The remainder of the $19.5 million project will come from the Port of Portland, the City of Portland and other federal funds already secured for these kinds of improvements.