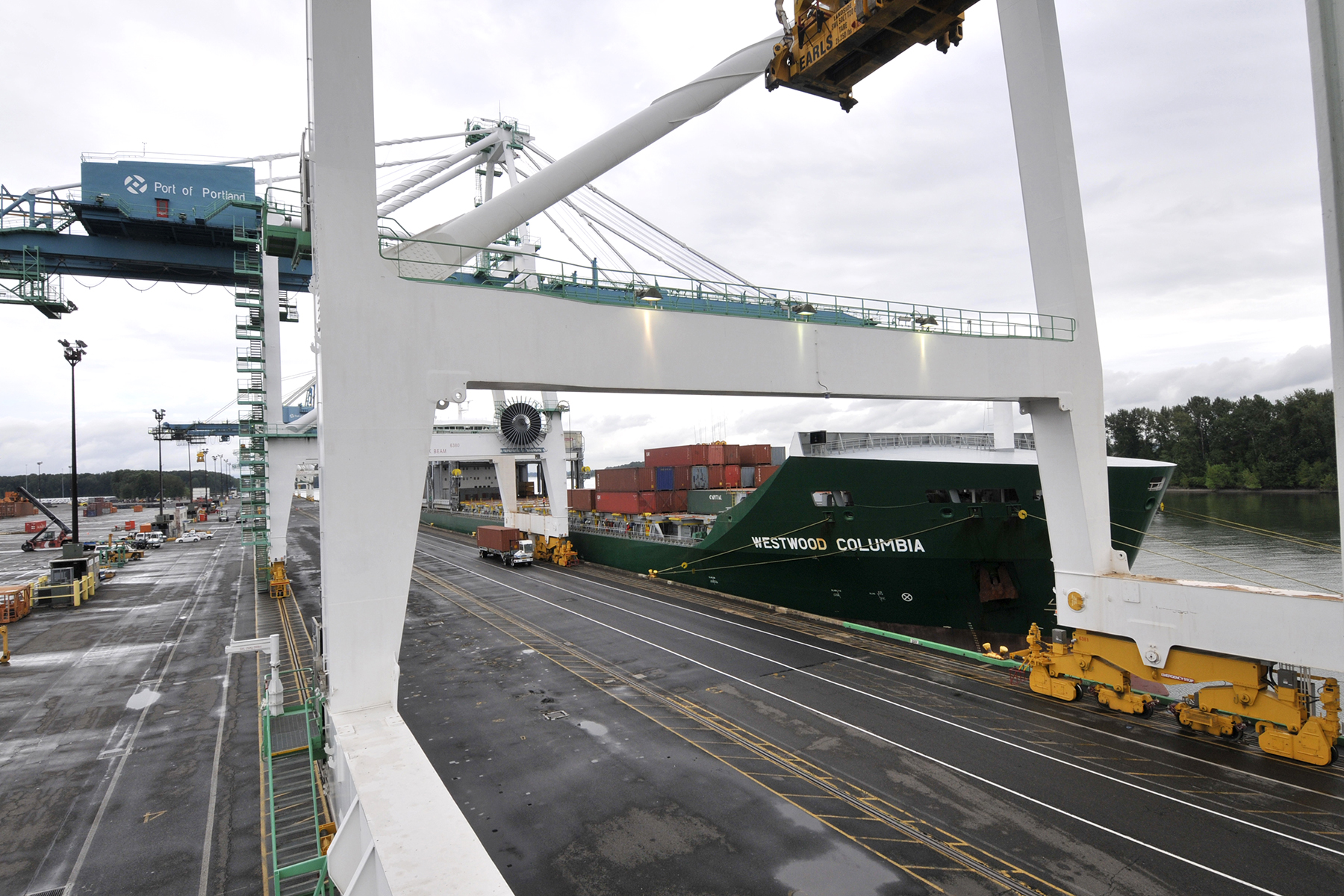 Port Strategy Magazine published an article recently that entertained a proposal to place the container terminal at T-6 under the control of a state agency that would be called the Oregon Shipping Authority.
Port of Portland executive director, Bill Wyatt responded with a letter to the editor laying out flaws in the plan:
---
May 19, 2016
Dear Ms. Fields:
I read with interest Port Strategy's recent article regarding Kevin Mannix' proposal to run the container terminal at the Port of Portland's Terminal 6 with a new Oregon Shipping Authority. While we are open to new ideas, his proposal doesn't fix what's broken here or globally.
We understand the desire to seek a solution to the lack of direct container service from Portland and the frustrations by affected Oregon shippers (primarily agriculture exporters) created by the on-going problems at Terminal 6.  Restoring full container service is our top priority, and demand for direct container service in the region remains strong.
Hanjin's departure was a direct result of poor productivity at Terminal 6 brought on by continuing disputes between labor and the terminal operator.
Restoring container service at Terminal 6 remains a challenge today, as we are seeing a carrier industry that is struggling from overcapacity, low freight rates and a significant reshuffling of alliances affecting vessel deployments and routing decisions.
Even with these challenges, we believe there is a strong market proposition for direct carrier service in Portland, but we will need some of the dust to settle on these major industry changes and underlying labor issues.  Carriers will require assurances they will not experience vessel disruptions and have a reasonable level of productivity.
Creating a new authority, as described in the Mannix proposal, will not change those local and global dynamics.
Among issues with creating a new authority is the concept that would create a redundant government entity that offers the same function as the Port of Portland at a higher cost.  It would seek state funding to duplicate activities and services the Port currently provides to the terminal operator, ICTSI, including police coverage/security, marketing, terminal and crane maintenance and berth dredging.
The proposal also suggests issues would be resolved by making longshoreman public employees – a conclusion that is without merit and would likely not be acceptable to the unions or shipping lines who collectively bargain with the ILWU under the West Coast agreement.
Indeed, it is worth noting that there is not a single publicly operated container terminal on the West Coast.  Public entities like the Port of Portland have not been considered for membership in the Pacific Maritime Association and it is highly unlikely that they ever would be, which means the new entity, as proposed in Mr. Mannix's proposal could not, in fact, employ longshoremen directly, or as state employees.
Before ICTSI assumed operations of Terminal 6 in 2011, the Port of Portland was required to utilize a PMA member stevedore on a cost-plus basis to employ and direct longshoremen.  This was the only option available at the time, but in the end, the Port was unable to bear the enormous financial losses which inevitably go along with this model of operation.
In considering the Mannix proposal, the Oregon legislature will be required to determine whether it is prepared to subsidize this new operation to the extent of many tens of millions of dollars annually, in the face of the many other financial priorities they face.
The Port's mission is to provide access to global markets for companies and producers, and container service fits well with that mission. There are also synergistic advantages in keeping container service, among other marine and air cargo functions, with our role as the region's trade and logistics hub and with our industrial land business which is home to many traded sector companies.
We know that trade cannot wait on a solution and that solutions aren't simple. That's why the governor called on us along with Oregon Department of Transportation, the Oregon Department of Agriculture and Business Oregon, to participate in the Trade and Logistics Initiative – Oregon's effort to meet the needs of trade in the midst of the disruption of service at Terminal 6 – and take a longer term look toward recruitment of container service.
Sincerely,
Bill Wyatt
Executive Director