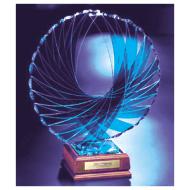 During the Brownfields 2011 conference in Philadelphia yesterday, the Port and its partners, Alcoa and FedEx Ground, were recognized with the national Phoenix Award for the top brownfield redevelopment project in the country for Troutdale Reynolds Industrial Park (TRIP).
Created in 1997, the Phoenix Award honors those working to solve critical environmental or social challenges, transforming blighted and contaminated areas into productive new uses and sustainable development projects. The award recognizes excellence in the redevelopment of abandoned or underused industrial and commercial facilities.
Starting from a pool of 70 award applicants, the Port and its partners were notified in February that TRIP was selected as a winner for the Oregon, Washington, Idaho and Alaska region. It was then awarded the top honor from a group of 10 projects located across the country – each representing a U.S. Environmental Protection Agency region.
Finalists were selected by a panel that included environmental professionals, government officials and business leaders. The panel considered the magnitude of the projects, innovation, solutions to regulatory/social issues, and impact upon the community.
Port commissioners voted in 2004 to purchase the 700-acre site in Troutdale, which represented the largest remaining zoned industrial property within the urban growth boundary. It was the home of an aluminum smelter for 60 years, but it had been idled since the summer of 2002. The property was a Superfund site, and remediation to industrial standards was completed by Alcoa in 2006. The redevelopment effort has involved the U.S. Environmental Protection Agency, the Oregon Department of Environmental Quality, Business Oregon and the Cities of Troutdale and Fairview.
Approximately half of the site was set aside for recreation, wetlands and natural spaces, including a multiuse trail constructed along nearly two miles of the perimeter. The other 366 acres are scheduled for development within three phases and a total of 11 lots. The Port constructed the related utilities and infrastructure needed to support the first phase of development.
In October 2010, FedEx Ground began full scale operations at the first facility within the new industrial park. The state-of-the-art, 447,000 square-foot regional distribution hub is located on 77 acres and supports a workforce of 800. Last year, the company was awarded the Oregon Brownfield Award for its work in revitalizing the site.
The FedEx Ground facility represents a sign of good things to come. Upon full build-out of all phases, Troutdale Reynolds Industrial Park is projected to generate more than 3,500 jobs, which translates to $141 million in personal income, $218 million in local purchases, and $46 million in state and local taxes when considering all job impacts. The Port has completed the planning effort for the second phase of development and is fielding interest from potential tenants for available lots.
For more information about the Phoenix Award, including the selection criteria and regional recipients, visit www.phoenixawards.org.