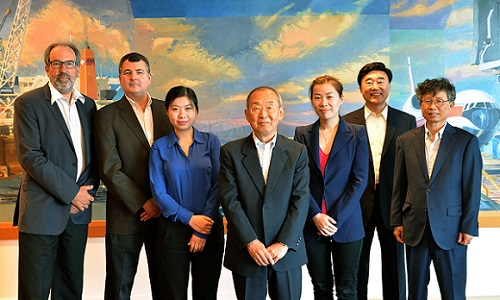 Although the trade delegation from the Port of Portland traveling with Governor Kate Brown in Asia will be on their way back home soon, that doesn't mean the Port won't continue to be well-represented there. Sometimes in marketing the Port of Portland, it's as much about relationships as it is what we have to offer, which is why the Port of Portland is represented directly in five Asian cities by agents who help us keep the lines of communication open with potential partners in trade.
Masa Mukouchi, Tokyo and Jim Kim, Seoul both work closely with the Port and Business Oregon in their respective countries. Charles Wang is the President of Formosa Transportation Company in Taipei with Ann Tseng, and branch offices in Tianjin and Shanghai staffed by Jackie Xu, and Zoe Zong, respectively. Phillip Lee in Hong Kong is expanding his role to support air cargo development.
When Portland-based marketing staff visits Asia, they depend heavily upon the overseas offices to work out logistics and schedule business calls in advance. Between visits, agents continue working directly with customers and representing the Port year round. "They maintain a consistent and meaningful presence for the Port by providing continuity between visits," said Greg Borossay, senior manager for trade and cargo development.
The agents recently visited Portland in mid-August for a series of local sales calls and interviews with Port directors. At a presentation to Port Commercial Team Staff, they provided an overview of overseas customer relationships, offered market insight, and shared what it is like to live and work in the cities of Tokyo, Seoul, Taipei, Shanghai and Tianjin. During their stay, the agents staffed an information booth at Seaport Celebration, the annual public open house the Port organizes at Marine Terminal 4 and helped answer questions from a curious public.
Of course, a major topic of interest is the reestablishment of container service to T-6. Although the Port has other business lines that make up the vast majority of work on the waterfront, the lack of frequent container service that supports the region's small and agricultural businesses is the proverbial elephant in the room. The overseas agents say it is their top priority.
"Many people ask me when I am going to retire," says Jim Kim, who has been representing the Port and the State of Oregon for almost 30 years. "Not until I help bring back consistent and sufficient container service to Portland," he says with a wry but determined smile.