In mid-May, Port of Portland commissioners approved a 25-year lease of the container and breakbulk facilities at Terminal 6 to International Container Terminal Services Inc., the fourth largest independent container terminal operator in the world. The company operates 18 terminals in 13 countries, and Portland will be its first terminal in the United States.
Under the terms of the agreement, ICTSI committed to pay the Port $8 million at closing in addition to an annual rent payment of $4.5 million, subject to any increases in the consumer price index. As terminal volumes increase over time, ICTSI will pay the Port additional incremental revenue per container moved. The Port will continue to be responsible for providing security services at Terminal 6.
"Improving access and capacity for exporters and importers, and increasing volumes are the priorities of the Port and ICTSI. We have the capital and the international connections to make that happen," said Marcelo Suarez, ICTSI senior vice president. "We have been aware for several years that the Port of Portland and ICTSI had complementary business goals. And, as we have gotten to know the City of Roses, we've been looking forward to the possibility of becoming part of this community."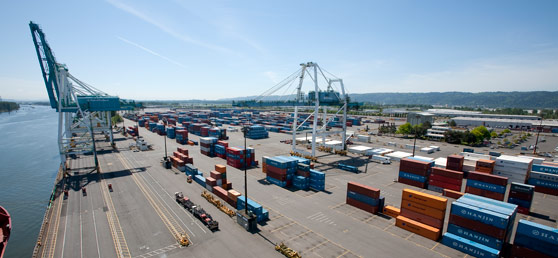 Working with a global operator like ICTSI stands to improve access and capacity for both importers and exporters moving cargo through Terminal 6.
ICTSI develops, manages and operates container ports and terminals worldwide, and will have staff and management based in Portland with local and West Coast expertise. Elvis Ganda is ICTSI's Oregon-based chief executive officer. Ganda comes to Portland with significant experience in terminal operations, ocean carrier management and port authority administration. Most recently, Ganda was president of California United Terminals in Long Beach, Calif.
"With expanded global reach, access to private capital and incentive to grow the business here in Portland, we see a bright outlook for local jobs, cargo volumes and expanded access for regional exporters to ports worldwide," said Bill Wyatt, executive director for the Port. "We see this lease agreement as a vote of confidence in our Port and the surrounding region from a growing international operator."
Related Link:
International Container Terminal Services, Inc.