Although Terminal 4 has been an active, working marine terminal since the early 1900s, parts of the 280-acre facility have been idled in recent years. With the removal of outmoded infrastructure and construction of a new liquid bulks pipeline now under way, however, many acres along the waterfront are being restored to productive use.
When considering options for the best alternatives, marketing efforts and studies determined that opportunities exist in markets associated with liquid bulk commodities. This use is also compatible with current tenant International Raw Materials, which imports and distributes liquid bulk products.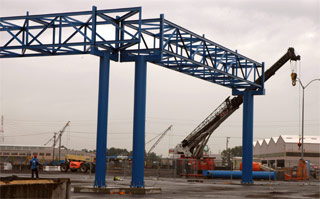 The new rack system for liquid bulk pipelines is being
constructed tall enough to accommodate clearance for
unobstructed truck and rail traffic.
A $5.6 million proposal to construct a new pipeline support structure was submitted to the state of Oregon as part of the ConnectOregon II Multi-Modal Transportation Fund Program in 2007. The project was accepted, and, due in part to the competitive bid climate, the budget estimate to complete this work was reduced to $4.6 million. Under the funding agreement, 80 percent of the eligible costs will be reimbursed to the Port, and 20 percent will be funded by the Port's general fund.
In December 2009, Port commissioners approved a construction contract to Todd Construction, Inc. for demolition of the obsolete equipment and construction of structural pipeline supports. This project will assist the Port in business development efforts to obtain additional tenants for a broad range of commodities. The supports are designed and located to accommodate multiple tenants and 15 pipelines that will cater to specific tenant needs. Completion is anticipated by October 2010.