Nearly 30 artists joined together in August to showcase artwork reflecting Portland's working waterfront at the annual Industry & Art show in Portland.
The juried exhibit featured artwork that celebrates life along the Columbia and Willamette rivers, the people and industries working on the waterfront, and their natural and industrial surroundings. The exhibition was hosted by the Working Waterfront Coalition, a group focused on the environmental health and economic vitality of the Portland Harbor.
Judges reviewed each artist's body of submitted work, and this year's Industry & Art winners include:
· First place winner Jef Gunn
· Second place winner Michael Brophy
· Third place winner Joseph Steininger
Artwork from the exhibit was on display at this year's Seaport Celebration event, bringing more than 3,600 people to Terminal 4 — a new record for attendance.
Approximately 60 paintings, prints, photographs and sculptures were selected for the exhibit. The artwork was available for purchase, and 50 percent of the proceeds went directly to benefit the Portland Community College Industrial Jobs Training Program Scholarship fund.
Related links: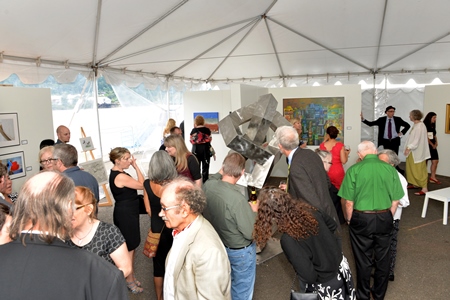 Industry & Art exhibit at Terminal 4 during the Port's Seaport Celebration event in August 2014