Friends and family gathered on July 17 at the International Raw Materials office at Terminal 4 to remember Don Gleave. It was a fitting location for his memorial, considering that July marked Don's 50th anniversary of working at the terminal. As he approached this landmark achievement, he took time to talk about his memories from the past five decades.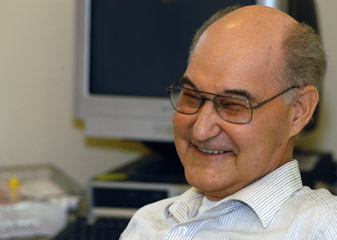 Don Gleave
Little did Don Gleave know when he took a ride from Longview, Wash., to Portland in his cousin's 1946 Chevy to look for work that he had started on a road that would change his future. When they arrived at Terminal 4, one of the managers told him, "We're looking for somebody; come back next week." Gleave came back in July of 1960, and kept coming back for the next 50 years.
When he started at the liquid bulk terminal, it was then known as the Pacific Molasses Co. – aptly named because it handled one grade of molasses exclusively. There he worked in operations until 1982, when he became manager of the facility in Portland, as well as one in Pasco, Wash. He proved to be an innovator, dedicated to making things work better, and he never shied away from a hard day of work. "I just did whatever was needed to keep the terminals running," said Gleave. "It was never Sleepy Hollow."
When the president of IRM, William "Tip" O'Neill, walked through the door one day in 1996, he let Gleave know that his company had purchased the facility. O'Neill made it clear that he wanted the experienced engineer and manager to stay on board, and, over the years, the men became good friends. According to Gleave, O'Neill's fairness, loyalty, commitment, empowerment and personal touch were all reasons why he kept working there. "You really couldn't ask for a better president," he said.
Gleave said he also appreciated the people who he worked with at the Port. "I have known and worked with a lot of Port staff in my time here, and everybody has been outstanding," he said. "We have always had a great relationship with the Port of Portland."
Don saw it all through his years at Terminal 4: ships transporting sheep, a restaurant on the docks, cruise ships, activity at the now idled grain terminal, and floods. When faced with problems like a ship clogged with hardened molasses, he always offered up creative solutions, which is why he was sent to terminals around the world to help make them more efficient and effective.
In his most recent position, Gleave was the manager of safety, environmental protection and technical design. Even as he approached his 50th anniversary, he still had no plans to retire. It was truly an impressive run, inspirational even, considering that Gleave was diagnosed with Hodgkins disease in 1964, and given two years to live. He refused that diagnosis and, having beaten the odds, he smiled as he talked about his wife of 49 years, who he met on a blind date at the St. John's Theater; their house a mile from work where they lived for the past 49 years, and the many valued co-workers who he worked with over the decades.
When asked what accomplishment he was most proud of, Don Gleave quickly mentioned his safety record – and what a legacy it is. His facility recently earned a national award for more than 8,000 days worked without a time lost incident. He expected to receive another award this year, as well. Beyond that, he said he was proud of his softball team, which garnered a mountain of trophies over 25 years, and the fact that he never took a day of unemployment in his life.
"I was raised on a farm in North Dakota and just wanted to improve my station in life," he said. "I'm grateful for the people I've worked with and the opportunities I've had."
Related Link:
International Raw Materials