Starting on February 8, a newly expanded containership service offered by Hapag-Lloyd and Hamburg Süd will connect the Pacific Northwest and the Mediterranean with direct calls and fixed-day weekly service through Terminal 6.
By bringing more ships to Portland and improving the regularity of the calls, the service will provide a more efficient, dependable and competitive option for shippers utilizing the Port. The addition of Hamburg Süd ships in March will add capacity while reaching new ports overseas through direct and feeder connections.
"This comes as very good news, and it will significantly increase our volumes out of Portland," said Lee Goodwin, manager, international transportation for Boise Inc. "Using this enhanced weekly service will improve efficency, cost savings and flexibility in our schedules." Boise Inc. exports containerized paper products from Pacific Northwest mills through Terminal 6 at the Port of Portland.
The port rotation for the newly configured North America West Coast service will be: Cartagena, Manzanillo (Mexico), Los Angeles, Oakland, Seattle, Vancouver, Portland, Oakland, Los Angeles, Manzanillo (Mexico), Manzanillo (Panama), Cartagena, Caucedo, Tangier, Valencia, Cagliari, Livorno, Genoa, Marseilles-Fos, Barcelona, Valencia, Tangier and back to Cartagena.
In 2011, container volumes grew by 9 percent to nearly 200,000 TEU (twenty foot equivalent units). Over the course of the year, full import containers improved by 5 percent. Full export containers grew by 27 percent, representing a jump in demand for regional products heading to overseas buyers. February marks the first anniversary of the 25-year container terminal lease to ICTSI Oregon, Inc.
Related Links:
News Release
Hapag-Lloyd
Hamburg Süd
ICTSI Oregon, Inc.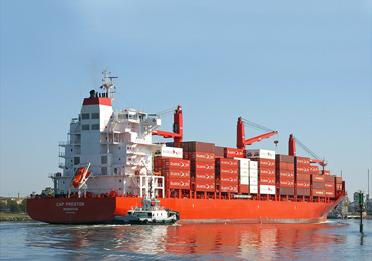 Photo credit: Hamburg Süd.