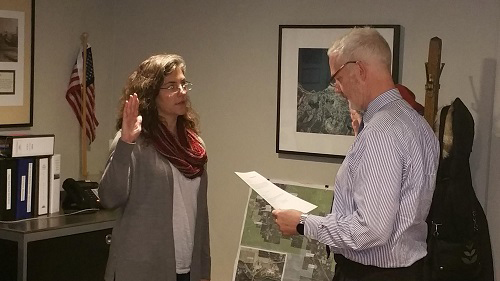 January 11, 2016 – Fran Breeding's New Year's Eve went beyond the typical festivities of party hats, champagne and watching the ball drop. That night, the financial analyst was appointed to serve as a Port of Skamania County commissioner, after months of canvassing and campaigning. Here, she weighs in on the challenges and synergies of serving two ports.
For those who aren't familiar, tell me about the Port of Skamania County.
The Port of Skamania County, Washington manages two business parks and a golf course in North Bonneville, several waterfront buildings in Stevenson, and one business park north of Carson. We also manage one public dock, but instead of ocean vessels, small passenger cruise ships stop here (Columbia Gorge Sternwheeler and Queen of the West).
In total, the Port owns 162 acres in Stevenson and North Bonneville, including approximately 30,000 square feet of commercial space and 120,000 square feet of industrial use space. The business park near Carson is actually owned by the County.
The Port's mission is to identify, develop, and promote economic resources that foster diversity, prosperity, and quality of life for all citizens of Skamania County.
How did you become involved with the Port?
My husband is an unmanned air systems (drone) pilot instructor for Insitu, which is in White Salmon. We live in North Bonneville in the central Columbia River Gorge to split the commuting distance and because it's a beautiful place to call home.
In early 2015, a friend who serves as the auditor for the Port of Skamania, encouraged me to run for the District 1 commissioner position because of my finance and public policy experience. I'd been looking for a meaningful volunteer opportunity after mentoring a local teen for two years. This fit the bill and is definitely more suited to my skill set. So I filed the paperwork, and for the first time in my life, I found myself running for public office.
Tell me about running a campaign. What was that experience like?
It was fun, educational, long and stressful. I was running against a guy who grew up in Stevenson and owns one of the county's favorite breweries — Backwoods in Carson. We've only been here for about four and a half years, so I don't have much name recognition.
A few months before the election, he told me that if he won the election he would resign because he simply didn't have time. Unfortunately, it was too late to withdraw his name from the ballot, which meant he could still win.
So I went forward with my campaign. I made fliers and yard signs and even knocked on doors. I'm an introvert, so canvassing was really awkward, but it was a good experience and I'm glad I did it.
I lost in the end, but I got 42 percent of the vote, so that was pretty exciting. My opponent resigned last month immediately after taking the oath of office, and the commissioners appointed me as his replacement on New Year's Eve, as I was the only one to submit a letter and resume.
What are your duties on the board?
Similar to the Port of Portland's commissioners, I'll be responsible for setting Port policy, albeit on a much smaller scale. This includes approving the annual budget, representing public interests, approving leases with tenants, and guiding and evaluating Port activities.
What lessons from your experience working at the Port of Portland do you expect to bring to your Port of Skamania County governance?
Because of my background in finance and budgeting, I will focus primarily on ensuring the Port of Skamania's operations are financially sustainable and that we have enough resources to accomplish our mission. My work on the Port of Portland's long range plan will come in handy for this!
We all have to work with a wide variety of people to accomplish our own goals so — just as I strive to build strong relationships with my colleagues here — I will work to build and maintain strong relationships with the Port of Skamania's partners.
More than anything, I'm excited about how being a Port commissioner will help me become a more well-rounded employee here at the Port of Portland.