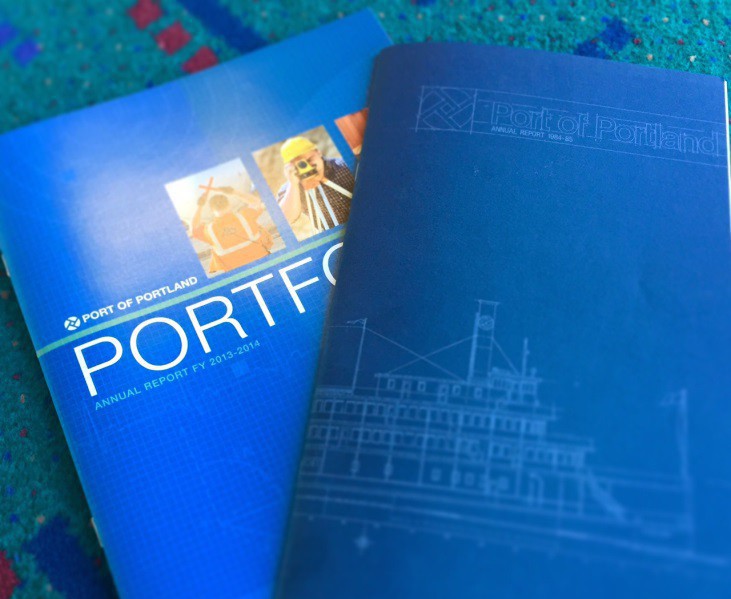 In the 1980s film series, Back to the Future, hero Marty McFly travels thirty years into the future to visit his hometown, landing on October 21, 2015. Hovercars, hoverboards and self-lacing Nike shoes are status quo. Marty naively buys a sports almanac hoping to use the information for personal gain, but it falls into the wrong hands; dystopian hilarity ensues until he can set things right again.
Last month, on the real October 21, 2015, I looked through the archives and found the Port of Portland Annual Report 1984-1985. It's no futuristic almanac to accurately prognosticate events, but it is an interesting walk down institutional memory lane.
In the Port Commission President, John Elorriaga's message, he reports good news for all four Port businesses with record-setting years on the waterfront and the airport, government contracts at the ship repair yard and a rebound in the real estate market.
Some highlights:
Work got underway to rehabilitate the northern half of Terminal 2, on the west side of the Willamette River. When competed in 1987, this terminal will offer modern, multi-purpose facilities that will accommodate, container, roll-on/roll-off, pass/pass, breakbulk and neobulk vessels with two modern ship berths, 18 acres of paved storage, a new crane and increased intermodal and cargo handling facilities.
In the area of breakbulk lumber, export tonnage decreased from 148,041 short tons in 1983-84 to 121,330 short tons in 1984-85. Lumber moving in containers is not reflected in this volume. Included in these figures is 40 million board feet of Oregon-milled rail ties shipped to the People's Republic of China (PRC) during 1984. The four shipments were the largest single contract ever negotiated between the Port and the PRC.
Although Terminal 2 saw some of the ro-ro cargo the lower dock was designed to handle, Sause Brothers ocean towing ran a service to Hawaii for many years, that portion is now leased by the US Army Corps of Engineers as a base for their two dredges, Essayons and Yaquina. The terminal still touts its on-dock rail and ample laydown and warehouse area for bulk, project and specialty cargoes. Most wood products these days going through the Port of Portland are containerized, about 36,000 TEU in 2014. Most loose logs for export are handled at the ports of Astoria or Longview.
As the new fiscal year began, Portland learned that it had been selected by Hyundai as the first U.S. port of entry for distribution of its new subcompact – the Pony Excel.
Hyundai continues to be a major source of auto imports through the Port of Portland last year importing more than 77,000 units by Auto Warehousing Company. Just as interesting, but perhaps far less predictable in 1985 is that AWC is on track to export 50,000 Fords to Asia this year.
Dry Bulk cargo revenues declined by 35 percent due primarily to the loss of soda ash volume to another Columbia River port.
Soda ash exports coming from Wyoming might have left Portland in 1985, but came back in when a bulk terminal at T-4 was completed in 1987. Steadily increasing over the years, nearly 3 million tons were exported in FY 2013-2014 after completion of a new and improved, $10 million ship loader. Non-grain dry bulk volumes are now almost 6 million tons per year, as much as all the cargo handled 30 years ago. Potash export, which accounted for 2.8 million tons in 2014, was not even a consideration in 1985.
As has been the case in recent years, Aviation continued to be a source of good news for the Port. Passenger volumes continue to increase with 4,867,720 served at Portland International Airport (PDX), a 4 percent increase over the previous year. Total operations were also up 4 percent at PDX with 217,958 aircraft departures and arrivals.
PDX is still the good-news story that it was in 1985, this year on track to see 17 million passengers in 2015 with even more domestic and international destinations. Interestingly, there are about 2000 fewer operations (takeoffs and landings) now than 30 years ago. Larger aircraft and fuller flights are the likely reasons.
Speaking of great movies, you can see a video the Port made for the 75th anniversary of PDX here.
The lastest annual report, now called Portfolio, can be found here.