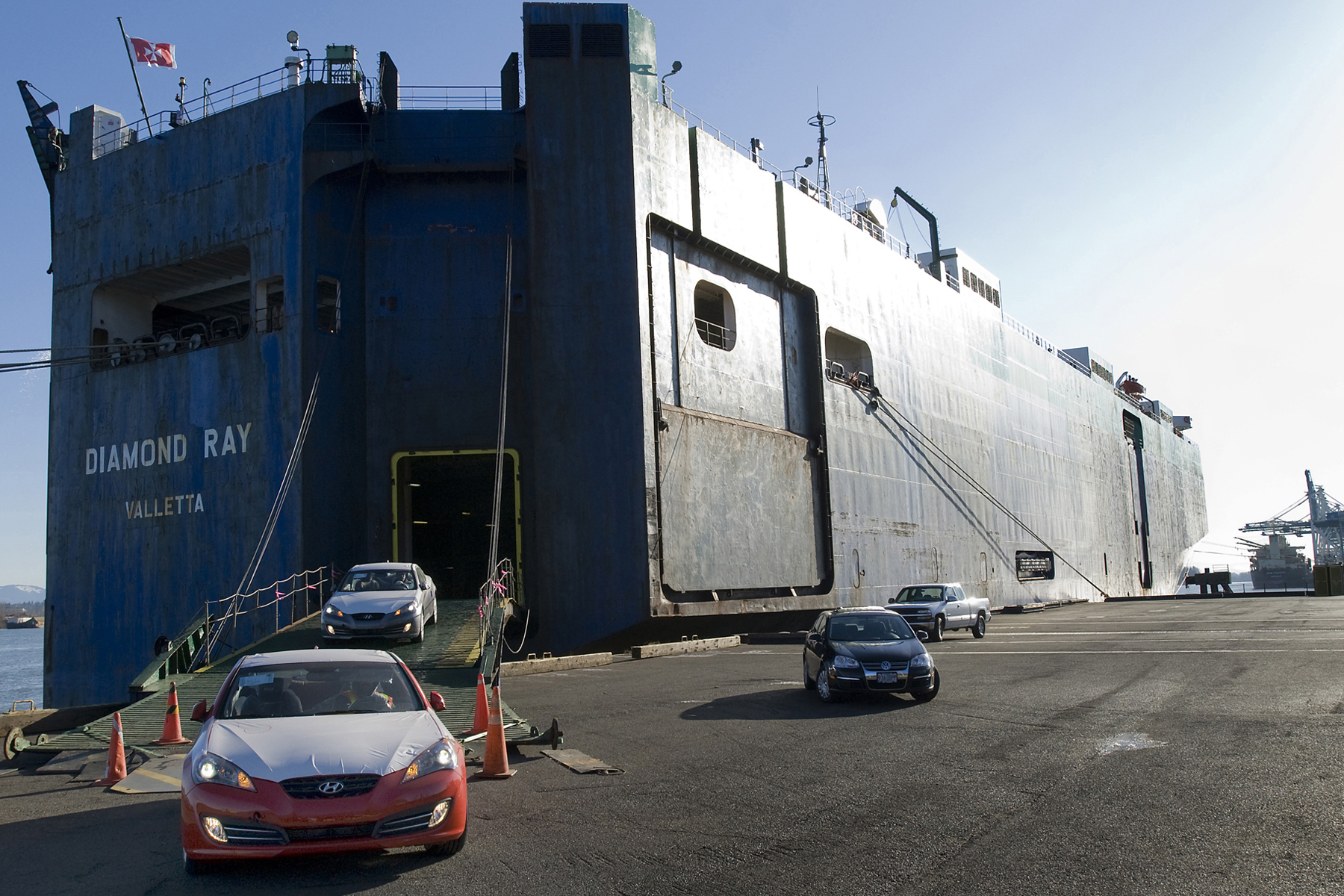 It was 1990 when the Hyundai import auto terminal first opened in Portland – the same year that the world's first web server created the foundation of what is now the Internet. Much has changed since then, and just like the web, the look and performance of Hyundai vehicles have evolved.
Now 23 years later, the two millionth Hyundai arrived at the Port in July. Growing volumes of Hyundai vehicles have helped keep Portland the second largest auto import hub on the U.S. West Coast.
Hyundai Motor Company first began importing cars through Portland in 1986 – mostly Excel subcompact automobiles bound for dealers in 29 states. In 1988, Hyundai Motor America signed a letter of intent confirming that the Port of Portland was selected as Hyundai's primary U.S. port of entry. Support from the Governor's office and federal delegation helped secure the commitment.
"Hyundai did an extensive comparative analysis on various West Coast ports for over a year before finally deciding to anchor down in Portland," said Bob Mazer, Manager, Portland, of GLOVIS America, Hyundai Auto Group's logistics provider.
Construction of a $12.2 million auto import facility and floating dock was financed by the Port, Oregon Lottery funds, and Hyundai. At a memorable groundbreaking ceremony in June 1989, skydivers delivered a shovel from 2,000 feet. As a symbol of the friendly ties and growing trade between Oregon and South Korea, they displayed the flags of each country as they floated down to Hyundai's construction site. The first Hyundai auto ship called the new facility in March 1990.
"As their volumes have grown over the past two decades, we have continued to grow with them," said John Akre, terminal manager for the Port of Portland. "We have always had a great relationship with Hyundai and GLOVIS."
A few long term leases and two million cars later, Auto Warehousing Company now handles the inbound Hyundai vehicles for GLOVIS at the leased, 130-acre Terminal 6 auto processing facility. A $2.8 million expansion is underway to expand the processing building by 27,000 square feet and increase capacity to more than 110,000 vehicles annually. This could double the 70 jobs already on site, and provide added work for rail, trucking, longshoreman and teamster workers.
Portland saw more than 275,000 vehicles roll across the docks in 2012, and each one has an estimated economic impact of $271 to the local economy.