It's that time of year again; time to submit applications for export grants if your organization or trade association handles international export goods and development activities in the Northwest. Awards are intended to strengthen potential export sales opportunities for small businesses in Oregon.
Oregon's State Trade and Export Promotion (STEP) program is now accepting applications for Industry Association Export Grants from industry professionals that aid in the establishment or expansion of export operations through small sector businesses.
The Oregon STEP program will award grants of up to $5,000 each to as many as six individual industry cluster organizations or trade associations to support the organization and international trade development, as well as trade show delegation to include Oregon's eligible small businesses that have individually enrolled in the program.
Who may apply?
This grant opportunity is open to all Oregon-headquartered industry cluster organizations or trade associations that meet the following criteria:
Organization is a legally formed non-profit organization or a legally formed association which is registered to conduct business in Oregon.

At least 75 percent of the organization's membership must be Oregon-headquartered, traded sector companies (companies that sell some portion of goods and services outside of the state of Oregon).

Membership in the organization is open to companies located in any region of the state.
Project requirements:
Projects proposed by applicants must include the following elements:
Proposed activity program must be centered on a specific trade show, mission or international business development that offers potential export opportunities for the organization's member companies.

The proposed delegation must include no fewer than three Oregon companies that have independently applied and been approved to receive individual STEP grants. See below for further information concerning individual STEP grants for companies.

The specific role and activities to be conducted by the applicant organization on behalf of the participating companies must be clearly defined and described in the project proposal.
Timeline:
The application period is open until June 28, 2013, and proposals will be considered on a rolling basis until all available funds are committed.

Funds are available for pre-approved activities only and a grant agreement between OBDD and the recipient must be in place prior to the commencement of the activity.

All approved activities must be completed by Friday, September 27, 2013.
How to apply:
Applicant organizations should submit completed applications via email to amanda.lowthian@state.or.us.
Related link:
Oregon's State Trade and Export Promotion Program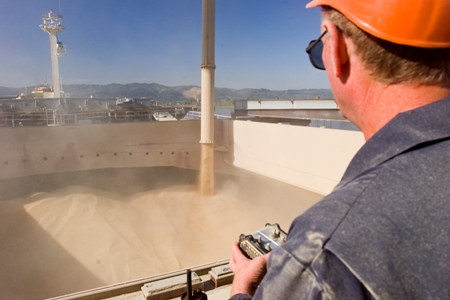 Located on the north edge of the Port's Rivergate Industrial District, Terminal 5 and its 190 acres feature a rapid-handling grain elevator operated by Columbia Grain Inc.