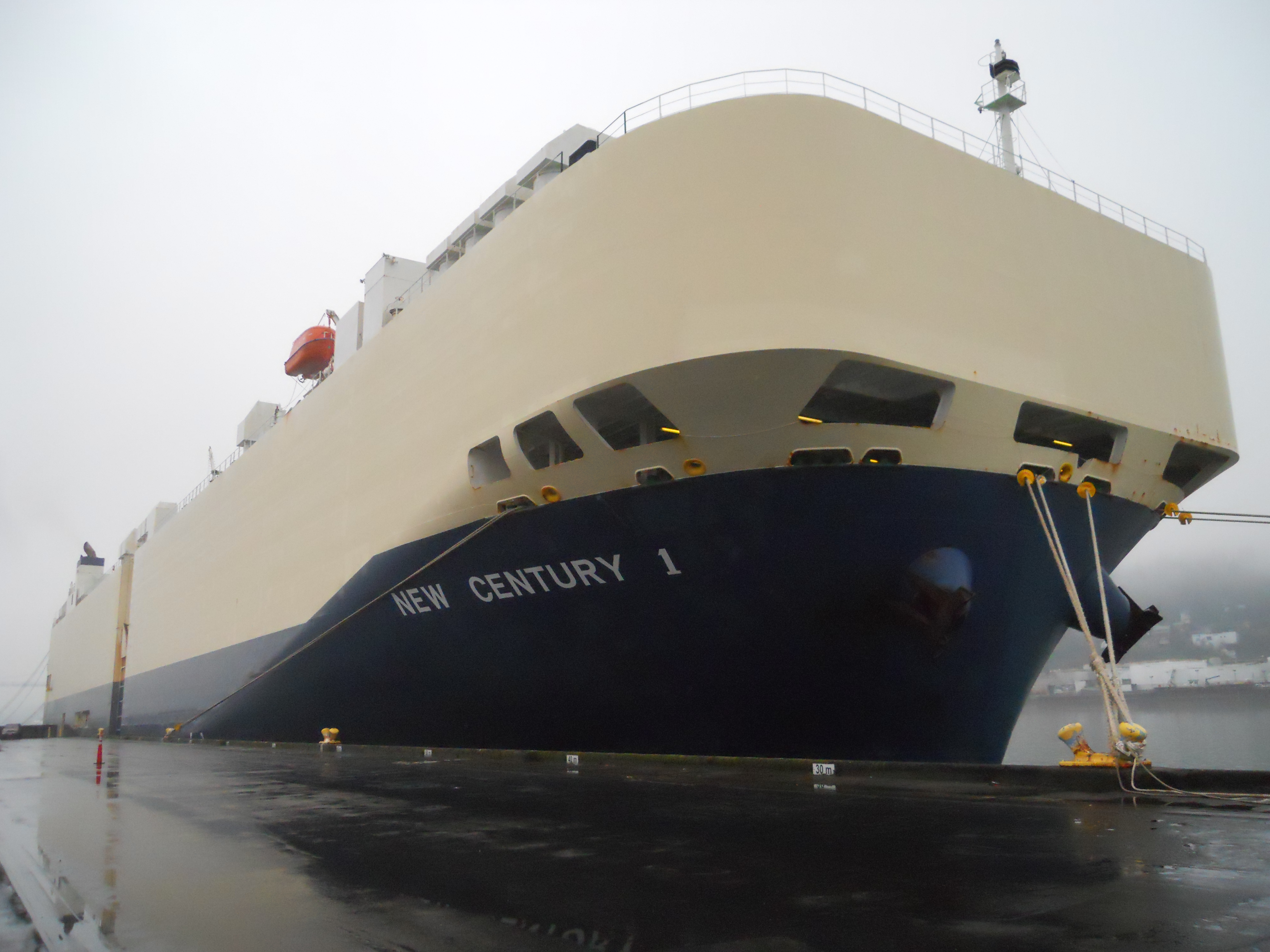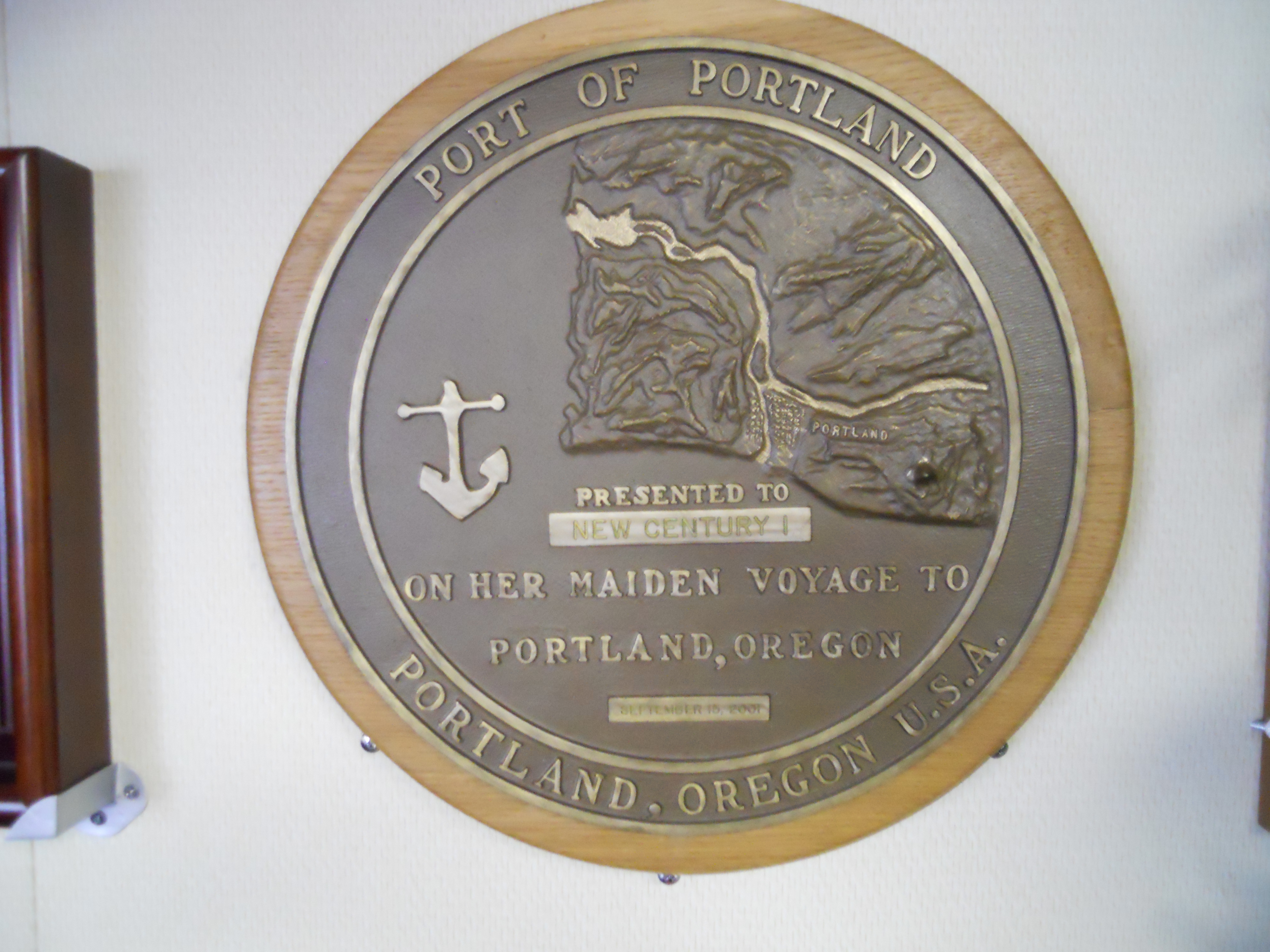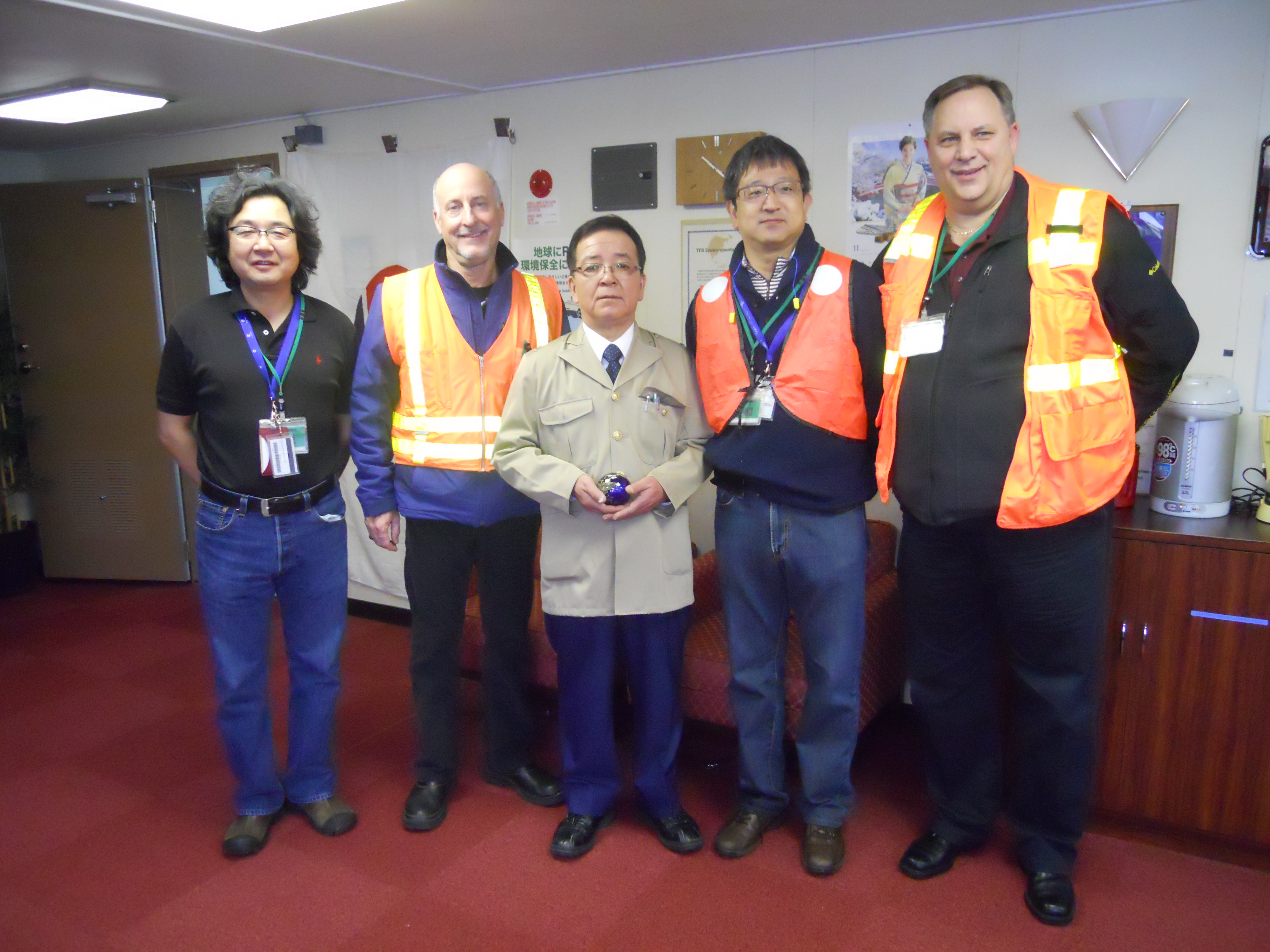 In the dining hall aboard the New Century 1, a bronze Port of Portland maiden voyage plaque hangs on the wall, dated September 15, 2001. As one of the first vessels to call Portland in the days after the 9/11 attacks, the ship's routing had been impacted and Port officials were not able to give a formal, customary welcoming presentation at the time.
Eleven years and approximately 750,000 miles later, Port staff was on hand to give a proper welcome when the pure car carrier returned for its 100th voyage. On January 25, Port terminal manager Jeff Krug joined Doug Beeber, senior vice president of Jones Stevedoring Company, Atsuo Utsumi of Fujitrans USA Inc., Koji Hirota, general manager of Toyofuji Shipping Co., and Evan Jones, vessel manager for General Steamship Corporation for a brief presentation and exchange of gifts with Captain Hiromi Shimomura.
Toyofuji Shipping Co., Ltd. was founded in 1964, and it operates as a subsidiary of Toyota Motor Corporation. The New Century 1 is one of three Toyofuji vessels regularly calling in Portland at the Toyota Logistics Services vehicle distribution center at Terminal 4. Launched in late August 2001, alongside the New Century 2, they were the first new ships for Toyofuji in many years. They were also very innovative.
"I remember how impressed I was to see this ship firsthand when it was still being constructed in the Mitsubishi ship yard in Nagasaki, Japan," said Beeber. "It was among the first green ships, setting a new standard with solar panels on deck, better fuel efficiency and cleaner emissions."
Designated an "ECO" ship, the New Century 1 has since been retrofitted to comply with the new Emission Control Area standard, which requires ships to switch from bunker fuel to low sulfur fuel within 200 miles of the coastline. The vessel earned a 2011 Environmental Achievement award from the Port of Long Beach.
The New Century 1 was one of the first pure car carriers equipped to handle two-way traffic on the ramp, which speeds loading and unloading operations. Arriving from Tahara, Japan, the vessel arrived with 4,700 Toyota, Lexus and Scion vehicles on board, and 3,600 were discharged in Portland. The Port estimates a local economic benefit of $271 from each vehicle that rolls across the docks. The ship continued on to Vancouver, B.C., before turning back to Japan.
With a 12 to 16 day transpacific journey, what do the 22 crew members do to pass the time? It may be hard to believe considering constraints, but the activity of choice is basketball. Championship banners line the walls of the dining hall, and on the deck they play on a makeshift court complete with backboard, hoop and net. No response when asked what happens if the ball bounces overboard.
There is a chance the New Century 1 could be back to celebrate its' 200th voyage, but considering the ship has an estimated 25 year lifespan it is unlikely to make it to 300. Toyofuji has no new ship orders on the books at this time, but new build vessels continue to increase capacity while improving efficiency and reducing fuel consumption and emissions.
"We were very glad to celebrate the 100th voyage in Portland," said Utsumi. "The captain and crew are always impressed by the scenery here, as well as the management, security and solid operations at the Port."
Related Link:
New Century 1 photos slideshow