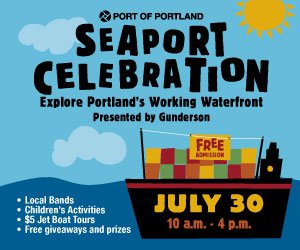 You are invited to experience the Industry&Art: The Rivers Run Through Us exhibit from September 22 to 25 at Vigor Industrial Shipyard on Swan Island. The Port is a sponsor of this must-see art show and sale, which offers a unique glimpse into the people and industries of our working waterfront.
The exhibit features both established and emerging artists (many of whom work in Portland Harbor) and includes paintings, sculptures, photography and more. Industry&Art offers open gallery and viewing hours on Thursday and Friday from 10 a.m. to 6 p.m. On Saturday and Sunday, the exhibit is open from 11 a.m. to 7 p.m.
In addition to the exhibit, Saturday and Sunday are family friendly days, and attendees can take a jet boat tour of the harbor, board the fully restored steamer Portland (the last steam-powered, sternwheeler tugboat to be built in the United States), and get up close to a World War II PT boat.
This free event (suggested donation of $5) is presented by The Working Waterfront Coalition, an organization of industrial marine businesses concerned about the environmental health and continued economic vitality of the Portland Harbor. It is a fundraiser for industrial job training programs and environmental initiatives.
Vigor Industrial Shipyard is located on Swan Island at 5555 N. Channel Avenue, Portland, OR 97217.