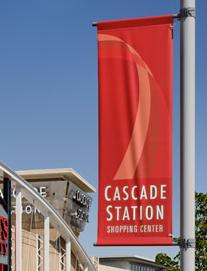 Two new, and very different, developments in Cascade Station have taken shape this year, with the newest restaurant in the area now open for business and a government field office coming soon.
Lovers of barbeque food rejoiced when a local franchise of the Famous Dave's opened in July. Located near the Best Buy store, the restaurant specializes in barbeque ribs and hickory-smoked meats in a casual, family-friendly atmosphere. It joins numerous other established restaurants in the area including Red Robin, Buffalo Wild Wings, International House of Pancakes, Taco Del Mar, Panda Express, and others.
The new Portland field office for the Federal Bureau of Investigation broke ground last December, and it is fast approaching the home stretch on construction. The 8-acre site is located in the Airport Way urban renewal area at 9109 N.E. Cascades Parkway, near the Target store. Construction of the $60 million project is generating 600 direct jobs, with a targeted completion date of March 2012. The four-story, 121,000-square-foot building was designed to meet LEED silver certification.
Located just off of Airport Way and adjacent to Oregon's only IKEA store, Cascade Station is a mixed-use development and 800,000 square foot retail center. It is a development of CenterCal Properties, LLC, which owns and operates seven shopping centers in the western U.S.