The U.S. Army Corps of Engineers, which maintains eight locks and dams on the Columbia and Snake rivers, has successfully replaced three downstream gates at The Dalles, John Day and Lower Monumental navigation locks and performed maintenance on the five others.
During an extended upriver lock outage that lasted from mid-December through most of March, the Port worked closely with customers and rail and trucking providers to keep export cargo that would normally use the barge system coming to Portland. Without the luxury of a second set of locks, the outages required a complete closure of that stretch of the rivers.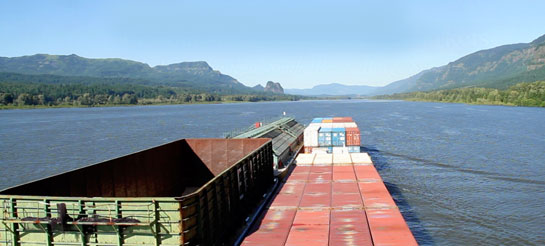 Upriver barge traffic on the Columbia and Snake rivers resumed following completion of the Corps' extensive lock repairs.
The locks on the river system used gates dating back to 1957 that needed replacement, along with extensive, systemwide repairs to avoid future unscheduled outages of a year or longer. When the Corps announced a 16-week extended lock closure, the Port devised a Shipper Support Program to provide financial incentives to keep containerized cargo moving via truck and rail and to minimize diversion of cargo away from Portland.
Port staff conducted a thorough analysis of truck and rail rates, held discussions with upriver shippers, and attempted to balance market effectiveness with reasonable cost controls. Commissioners approved up to $800,000 in funding for the Shipper Support Program from General Fund cash reserves and the marine operating budget.
The program provided a per-unit reimbursement rate to customers that would usually otherwise ship through Terminal 6 using container-on-barge services. Response to the program from participants was positive, and the program had adequate funding through the end of the river system closure. Regular barging operations have since resumed.
"Overall trade on the system is expected to increase significantly over the next 15 years," said Glenn Vanselow, executive director of the Pacific Northwest Waterways Association. "The infrastructure investments, maintenance and repairs made during the closure have long-term benefits for the Northwest and those who depend on goods that travel by river. With the success of this closure, the river system will remain a tremendous asset to handle the expected upsurge in waterborne commerce in the future."
Related Links:
U.S. Army Corps of Engineers, Portland District
Pacific Northwest Waterways Association