What do the Dredge Oregon, deicing at PDX, rail at Terminal 4, the airfield at Hillsboro Airport, and a crane at Terminal 6 all have in common? All five are key marine and aviation initiatives that will receive funding through the ConnectOregon III program.
Building on the success of the first two $100 million ConnectOregon authorizations in 2005 and 2007, ConnectOregon III aims to continue to improve connections between the highway system and other modes of transportation. More than 81 projects and $201 million in applications were received after the third such program was approved by the legislature during the 2009 session.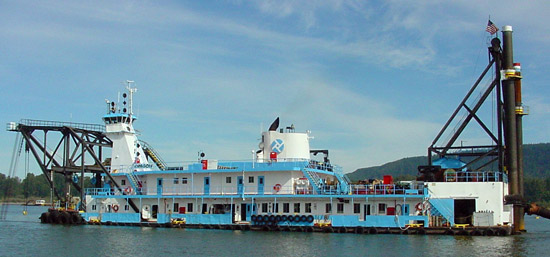 Repowering the Dredge Oregon through equipment retrofits stood atop the list of prioritized projects for ConnectOregon III.
In August, the Oregon Transportation Commission approved 41 projects, with more than $17.5 million out of the $100 million budget allocated for Port projects, including:
Dredge Oregon Equipment Upgrade ($5 million) – Retrofitting the dredge's 1950s-era machinery will result in more dependable, fuel-efficient and environmentally friendly operation.
PDX Deicing System Upgrade ($4.24 million) – An enhanced treatment system will better protect water quality in the Columbia Slough while maintaining safe airport operations.
Hillsboro Airport Parallel Runway/Taxiway D ($4 million) – Planned construction of new airfield infrastructure will help reduce congestion at the state's busiest general aviation airport.
Terminal 6 Crane Modernization ($2.91 million) – Overhauling the oldest container cranes extends their service life while allowing them to perform like new for a fraction of the cost.
Terminal 4 Rail Upgrade ($1.41 million) – Enhancing rail infrastructure will better serve the terminal and its tenants by reducing blockages and improving rail velocity.
Also of note is a project to support new safety technology ($451,670), sponsored by the Columbia River Bar Pilots. New wave data buoys will be used to better monitor and predict wave hazard conditions on the Columbia River Bar, directly benefitting the thousands of deep-draft vessels that cross the bar.
"From marine to aviation, transit to rail, ConnectOregon has created jobs and improved our economic future," said Gov. Ted Kulongoski. "The entire program, with its focused investment in our non-highway system, has been a success for all of Oregon."
Related Link:
ConnectOregon