It was a celebration over 20 years in the making. A diverse group of more than 300 business, labor, agricultural, port, and elected leaders from across the Northwest and the nation met at the Port of Vancouver on Thursday, Oct. 21, to mark the completion of the Columbia River channel improvement project.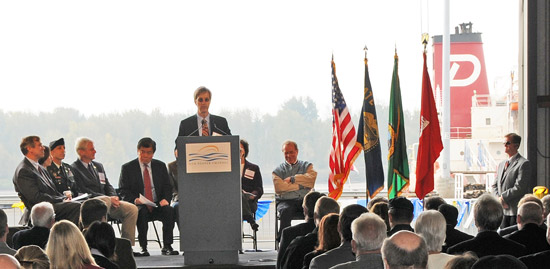 Bill Wyatt, executive director for the Port of Portland, addressed the crowd of hundreds during the celebration.
The project involved deepening the 103-mile-long navigation channel from the Pacific Ocean to the ports of Portland and Vancouver. A deeper channel will allow larger and more fully loaded ships to serve the many inland ports along the Columbia River and the many customers they serve. More than 1,000 Northwest businesses and farmers ship $17 billion of cargo through the Columbia River annually.
Deepening the channel from 40 to 43 feet means an additional 6,000 to 10,000 tons of cargo can be carried on each ship, which is good for both the environment and the bottom line. This is especially beneficial when it comes to export cargo, which is typically heavier.
The project was funded by $27.7 million from the state of Oregon, $27.7 million from the state of Washington, and more than $140 million from the federal government. Several speakers at the event affirmed that it is already yielding navigational safety benefits and strengthening business and jobs in the region.
Port officials cited more than $500 million in new and recent projects that are directly attributable to channel deepening. These projects include a new grain terminal and dock in Longview, a grain facility expansion in Kalama, a terminal lease and new container service at the Port of Portland, and rail and terminal infrastructure improvements at the Port of Vancouver. Presenters indicated that more of these kinds of projects and investments are in the works.
"It's clear today that this project only happened because a large coalition from different states and different political parties and different industry groups came together to support a common cause: a deeper channel that delivers jobs, prosperity and sustainability." said Bill Wyatt, executive director for the Port of Portland.
Related Link:
Columbia River Channel Coalition