When new business prospects visit the region, the Port plays an active role in leading tour groups, hosting events and partnering with others locally to showcase its selling points and competitive advantages. Such has been the case with two recent groups that have the potential to bring new companies and jobs to Oregon.
In May, the Port joined the Oregon Business Development Department, Portland Regional Partners, Greenlight Greater Portland, and a number of businesses in hosting a group of corporate site selection firms over the course of several days. It was a cooperative public-private partnership aimed at economic development by showcasing the best that the Portland area has to offer, with the aim of highlighting opportunities for companies that are looking to grow or relocate.
Officials from three targeted firms that scout locations for companies across the nation participated. One of their tour stops was the new FedEx Ground regional distribution hub located alongside developable lots at the Port's Troutdale Reynolds Industrial Park. Others included Boeing, SolarWorld and Nike.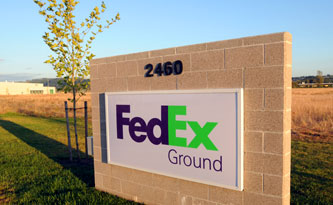 FedEx Ground's new facility in Troutdale Reynolds Industrial Park — one of the tour stops for site selectors — opened for business in August.
The Port is planning to host a bus tour next month for the Commercial Real Estate Development Association. According to the association's mission, it advances responsible, sustainable development that creates jobs. It is the leading organization for developers, owners and related professionals in office, industrial and mixed-use real estate. The tour included stops at Cascade Station, Portland International Center, local industrial parks and the Port headquarters.
These efforts help keep the region top of mind with those who help guide where companies locate. With a compelling case made by the Port and its many partners, the region will be more visible and competitive for future business recruitments.