A multimillion dollar effort to modernize portions of the Port of Portland's container terminal will soon be shifting focus from a container crane overhaul to dock improvements. The Port was awarded more than $9 million in federal grant funding from the American Recovery and Reinvestment Act. This funding allowed the Port to proceed with two key modernization projects at Terminal 6.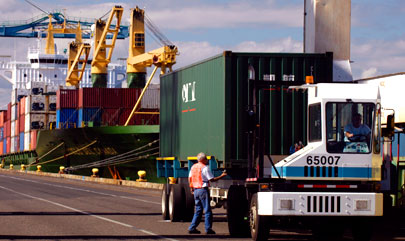 Making investments in infrastructure today ensures that the terminals will remain competitive in the future.
Nearly 20 years old, the Port's oldest post-Panamax container crane is receiving much needed equipment replacements and a fresh coat of protective paint in areas prone to rust. The 16-story, 1,200-ton, heavy lift crane was moved off of the dock to avoid disruption of regular business operations, and it has been stationed in the container yard for the past year during repairs. The crane will soon be back in service with more accurate, efficient and reliable performance.
The second phase of modernization work at Terminal 6 involves wharf improvements. This includes seismic tiebacks, stormwater system upgrades, reconfigured power feeds and structural repairs to the sheet piles on the dock. Design of the wharf improvements is under way, with construction scheduled to begin this winter.
The U.S. Department of Transportation, Federal Highway Administration, through the Maritime Administration, is funding 100 percent of the eligible costs of these projects. The Port's share of funds came from $100 million allocated to the Oregon Department of Transportation to support key transportation infrastructure projects, which include freight mobility.
Terms of the grant award require the Port to formally acknowledge that: a) the effort is/was sponsored by the Department of Transportation, (b) the content of the information does not necessarily reflect the position or policy of the Administrator, and (c) that no official endorsement should be inferred.