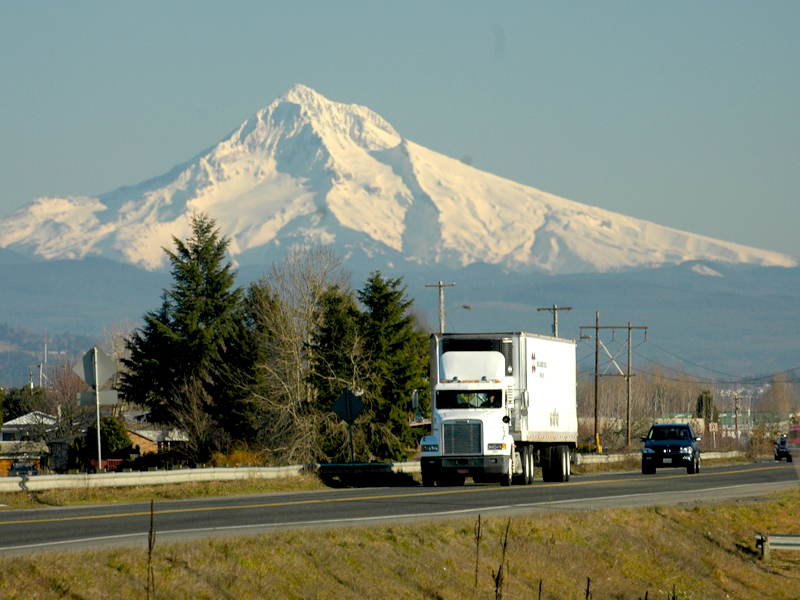 December 14, 2015 – Earlier this month, President Obama signed the new five-year, 1300-page, $300 billion transportation authorization bill, cleverly named the Fixing America's Surface Transportation Act, or FAST Act. We asked Rick Finn, the Port of Portland's Federal Affairs Manager what it means for Oregon and the Port of Portland.
The bill provides modest increases in highway funding to the states. In the first year of the bill, Oregon's highway funding will increase by $25 million, or five percent, from $482 million to $507 million.
Oregon's funding would then rise by about two percent per year until the bill's final year in 2020. In that year, Oregon will receive $553 million, so the bill will provide $71 million more to Oregon than the current level over five years. Therefore, the Oregon Department of Transportation (ODOT) will have a fair amount of additional money that it could choose to apply to highway projects that would serve Port facilities.
For the first time, the bill creates funding programs specifically focused on improving freight mobility. What are the details?
One of the new programs will direct additional money to the states for freight highway projects. ODOT will receive $14.5 million in the first year of this program with steady annual increases to over $19 million in 2020. Not a whole lot of money; however, it's available for a wide variety of freight-related projects. Furthermore, up to 10 percent of a state's allocation could be used for intermodal projects within the Port's boundaries.
The other new freight program provides $4.5 billion over five years for "Nationally Significant Freight and Highway Projects." It is a new competitive grant program for large highway and freight projects. It's funded at $800 million in 2016 with annual increases to $1 billion in 2020. The minimum project cost is $100 million, with the exception that 10 percent of each year's funding must be reserved for projects that cost less than $100 million. The federal share of any project cost cannot exceed 60 percent. Grade separation projects are among the projects eligible for funding.
Finally, up to $500 million of the $4.5 billion may be used for freight intermodal projects (including those within the Port's boundaries) and freight rail projects.
What will states have to do in order to qualify for the additional freight mobility funding?
States will have to develop state freight plans in order to receive the additional federal freight funding I mentioned. ODOT already has a state freight plan, but it will have to be modified to meet the requirements of this bill.
Is this just an expansion of the TIGER grant program?
Just to clarify, the bill did not authorize the TIGER grant program. Nonetheless, most people expect the TIGER program will continue to receive funding in the annual Transportation Department appropriations bill.
There seems to be a "no port left behind" measurement aspect, can you explain that and why it was included?
The bill includes a provision that requires the Transportation Department to establish a port performance statistics program to provide nationally consistent performance measures at the top 25 US ports by tonnage, containers, and dry bulk. The Department will commission a large, broad-based working group to recommend the performance measures. The recent West Coast port disruptions prompted this provision. None of the more far-reaching House and Senate bills introduced in response to the port disruptions has moved forward.
What else does the FAST Act do?
The bill reauthorizes the Export-Import Bank until 2019, which had been a priority for the Port of Portland and other trade organizations in Oregon. The Bank can now once again accept and process new requests for export financing assistance.