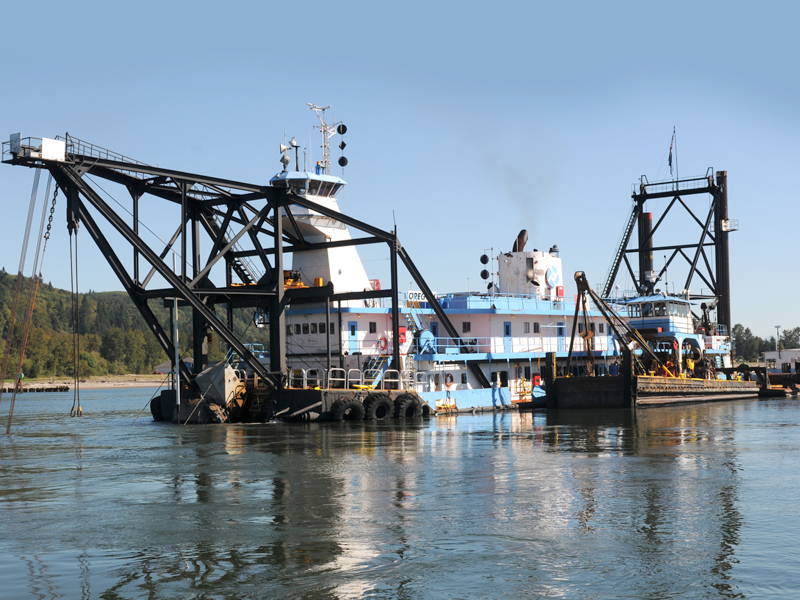 December 4, 2015 – With the closing of the Columbia River navigation channel dredge season, the crew demobilized the equipment and returned Dredge Oregon to Swan Island on Dec. 4. The crew spent the past two weeks preparing the dredge and support equipment, including barges, heavy equipment, pipe rafts, tow vessels, crew boat, crane and utility rover, for winter storage.
Operations were completed the day before Thanksgiving at Kalama at river mile 76, pumping to Deer Island. The dredge worked 128 days this year on 15 different projects and moved more than 2.4 million cubic yards of material to help ensure navigation safety. For some perspective, that would cover a football field with 452 feet of sand!
"The River has been left in good shape, with plenty of advanced maintenance dredging conducted to ensure the channel maintains that condition through the winter," Port of Portland Senior Waterways Planner Fred Myer said. "The additional work was facilitated by very low river flows this past season, carrying less sediment that could accumulate."
Approximately 30 crew hired through the Local 701 union will return to work next April making preparations for the 2016 season, which starts in June. About eight crew members and all administrative staff will remain working through the winter.
Other dredges working in the Columbia River this year include the U.S. Army Corps of Engineers' contract hopper Dredge Bayport, which recently completed work near Pillar Rock (river mile 28) and returned to its homeport in Seattle. Dredge Yaquina finished earlier this year and is currently in lay berth at the Corps lease at Port of Portland's Terminal 2. Dredge Essayons is in Mare Island near San Francisco in annual dry-dock period.