The Port of Portland recently began accepting shipments of 53-foot domestic containers at Terminal 6. These new build, 53-foot domestic containers are built in Qingdao, China, and will be deployed by Union Pacific Railroad and CSX Intermodal in support of their domestic intermodal programs.
They will be used within North America by truck and rail, with one-third staying in the local Portland regional market and the remainder delivered to destinations across the country. The new containers have been imported on ships operated and managed by Gearbulk, a global carrier with a fleet of bulk and mixed use vessels. Gearbulk has already made several calls at the Port's Terminal 6.
This program supports an increasing trend for shippers to transload international containerized cargo into domestic 53-foot containers. These larger containers have the benefit of greater cube capacity. The standard international containers come in various sizes, with the 45-foot box being the largest in use today.
The first Gearbulk ship, the Teneca Arrow, arrived on July 26, and the third ship called last week. The Port expects between six to eight vessels and approximately 2,500 containers here in Portland over the course of four months under the current contract, and there is a possibility of extending that contract for another six months. The business has helped provide more work for longshore labor at the container terminal.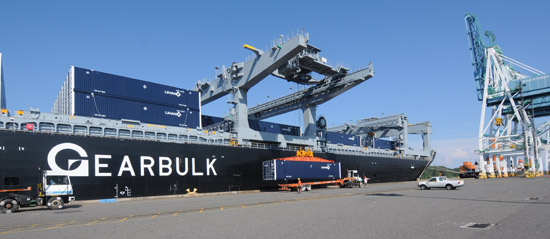 Offloading the larger 53' domestic containers requires special equipment and techniques involving skilled longshore workers.
"This is unique opportunity cargo, and we appreciate the efforts of our skilled work force and their proactive approach to help us recruit and retain this business," said Greg Borossay, senior manager of carrier development. "We have had very good cooperation on this project from the ILWU."
The eastbound intermodal rail movement of these containers precede plans by International Container Terminal Services, Inc. to leverage the Port's on-dock intermodal rail yard capabilities after assuming container terminal operations under a 25-year lease next February. Currently, most import containers arriving in Portland are destined for the local market, but with direct, river-grade rail service by both Union Pacific Railroad and BNSF Railway, it could serve as more of a West Coast gateway to inland destinations, as it is now for finished vehicles.